Do you ever wonder how to get that white washed light wood furniture finish? Have you ever stopped your scroll through Pinterest when you landed on a beautiful "white oak" looking piece of furniture? This can accurately describe me in the past few months. I have a solid wood Ethan Allen coffee table sitting in my garage that is screaming for a makeover! Come along and I'll share my adventure as I lime wash this coffee table with liming wax.
I scored this coffee table from a friend who sells antiques for $30. She needed to get rid of it and I happened to need a coffee table (like I needed a hole in the head, lol). If you've been around here long enough you know I don't pass up solid wood furniture!
I loved the lines in this coffee table. It's big, it's heavy and it was screaming to get rid of that dark wood!
Let's talk about Lime Wax for a minute.
Liming wax is meant to set in the open grain of the wood.
Unlike regular wax, which is meant to highlight the moldings, liming wax highlights the wood grain to give it that white wash finish.
How do you lime wash wood?
Because liming wax has to penetrate the wood to the grain, I had to remove the top layer of sealer.
First, strip off at least the first coat of sealer.
I had my CitriStrip paint stripper, paint brush and gloves and I was ready to go!
I won't go into too many details on how I stripped the finish off of this coffee table because this post is mainly about my lime wash finish.
If you are interested in seeing more about how I strip most of my furniture flips (and a handy little hack), check out my post HERE.
Below is what the coffee table looked like after I stripped at least the top layer off.
Disclosure: this post contains affiliate links. This means that if you purchase from one of these links I will receive a small commission at no extra charge to you.
Next, start the liming process by adding lime wax.
For this project I decided to use the Amy Howard Liming Wax.
I've heard great things about it so I knew I had to try it out.
Materials used to Lime wax furniture:
Gloves
Lint free cloth
Drop cloth
Furniture piece to refinish
There are a ton of ways to apply the liming wax. I'll share the way I do it.
My method on how to lime wash wood.
I started with applying the wax to the top of the coffee table.
I dipped the rag into the wax and pulled out a dime size portion and then started to apply the wax IN THE direction of the grain.
A quick note: Liming wax is best used on an unfinished open grain piece of wood like Oak to highlight the wood grain. This coffee table has been heavily stained, and even though I removed the first layer of varnish and stain, the wax will not penetrate the wood grain. Because of this, I'm using the liming wax to lighten or "white wash" the table and cover up some of the red tones.
As you can see, the left side is where the liming wax has been applied vs. the right side where it has not been.
After I finished lime washing the top, it was time to wax the spindled legs. I wanted the legs to have a heavier "white wash" finish.
Once the legs were done, I could call it finished!
Video on how to Lime wash wood
Ready to see the coffee table makeover with liming wax?
I'm so pleased with how this coffee table makeover turned out!
If you enjoyed this post feel free to pin the image below to Pinterest.
Want to see more furniture flipping inspiration? Come check out my super talented blogger friends and their furniture flips below.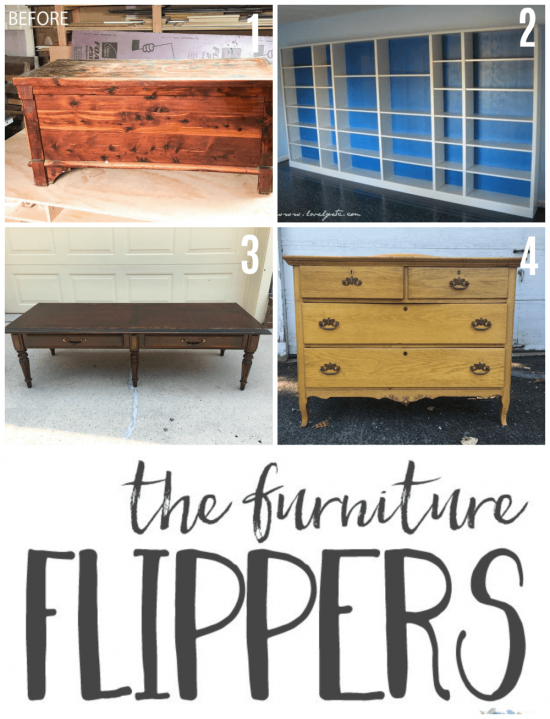 Thanks for following along guys!
Lindsey**