Learn how to use limed wax to create a beautiful lime washed finish. I've shared this with a coffee table makeover.
Do you ever wonder how to get that white washed light wood furniture finish? Have you ever stopped your scroll through Pinterest when you landed on a beautiful "white oak" looking piece of furniture? A simple way to achieve this look is with LIMING WAX! I have a solid wood Ethan Allen coffee table sitting in my garage that is screaming for a makeover! Come along and I'll share my tutorial about how to use limed wax with a lime washed coffee table makeover.
I scored this coffee table from a friend who sells antiques for $30. She needed to get rid of it and I happened to need a coffee table (like I needed a hole in the head, lol). If you've been around here long enough you know I don't pass up solid wood furniture!
I loved the lines in this coffee table. It's big, it's heavy and it was screaming to get rid of that dark wood!
Let's talk about Lime Wax for a minute.
Liming wax is meant to set in the open grain of the wood. This is what gives it that cerused finish.
Unlike regular furniture wax, which is meant to highlight the moldings, liming wax highlights the wood grain to give it that white wash finish or weathered wood finish.
Make sure to check out our other wax posts below:
Best Wax for Painted Furniture
Testing Beeswax for Wood for the Best Beeswax Furniture Polish
What is the difference between whitewash and lime wash?
Simply put; whitewash uses latex paint to cover the surface while lime wash is meant to seep through the grain of the wood to highlight it.
Related Whitewash furniture posts:
How to Whitewash Bare Wood with a Latex Paint and Water Mixture
How to Create an Antique Fireplace Mantel with a Whitewash Technique
How to Create the Weathered Barn Wood look with New Wood
White washed furniture makeovers that will wow you!
Best White Wash Wood Stains with Products
Do you need to seal Whitewash furniture and wood?
How do you lime wash wood?
Liming wax (limed wax, lime wax, etc.) is meant to sit in the wood grain. This means that before you apply it, you need to remove the sealer and or finish until your reach the open wood grain. Since limed wax sits in the wood grain and not on top, it works (or shows up) best on wood with a heavy or large wood grain.
If you are looking for a very prominent lime wash finish, make sure you use this liming wax on oak wood.
Disclosure; this post contains affiliate links. As an Amazon Associate I earn from qualifying purchases. This does not affect the price you pay. This disclosure statement refers to the rest of the Amazon links in this post. See more on my disclosure page.
I had my CitriStrip paint stripper, paint brush and gloves and I was ready to go!
I won't go into too many details on how to strip the finish off of this coffee table because this post is mainly about my lime washed wood coffee table.
Below is what the coffee table looked like after I stripped at least the top layer off.
You will notice that I didn't strip all of the stain from the coffee table. I liked the color of the wood once the top few layers were gone. All this to say, you can definitely use liming wax over stain. As a matter of fact, I think the contrast of the dark wood with the white lime wash is really nice.
Just make sure to remove the sealer finish so the lime wash will sit in the grain.
Once you have removed any sealer, stain or paint from your furniture piece, you can start the liming process by adding lime wax.
For this project I decided to use the Amy Howard Liming Wax.
I've heard great things about it so I knew I had to try it out.
Materials used:
Gloves
Furniture piece to refinish
There are a ton of ways to apply the liming wax. I'll share the way I did it.
How to use Limed wax for a cerused finish
Dip a lint free rag into the wax and pull out a dime size portion
Apply the wax IN THE direction of the grain
Apply to small areas at a time and continue until you have coated the entire piece with liming wax
Let the wax sit for about 30 minutes
Buff the surface with a clean lint free rag (Be careful not to buff too much because you don't want to remove the finish. You want to buff just enough to give it a small shine)
That's it! No need for a top coat because the wax acts as one.
Liming wax is best used on an unfinished open grain piece of wood like Oak to highlight the wood grain. This coffee table has been heavily stained, and even though I removed the first layer of varnish and stain, the wax will not penetrate the wood grain. Because of this, I'm using the liming wax to lighten or "white wash" the table and cover up some of the red tones.
Make sure to check out my video on how to Lime wash wood with this coffee table makeover.
Ready to see the coffee table makeover with liming wax?
The best part about the lime wax is that it gives it a new whitewash look and protects the wood.
I'm so pleased with how this coffee table makeover turned out!
If you enjoyed this post feel free to pin the image below to Pinterest.
How to use Lime wax and Liming wax
Learn how to use Lime wax or liming wax for a lime washed wood makeover. I've transformed the wood on a coffee table with Liming wax.
Estimated Cost
30 dollars
Materials
Liming Wax
Gloves
Lint free cloth
Chip brush
Drop cloth
Furniture piece to refinish
Instructions
Clean and strip (if necessary) your furniture piece
Dip the rag into the wax and pull out a dime size portion and then started to apply the wax IN THE direction of the grain
Let the wax sit for about 30 minutes
Then "buff the surface" with a clean lint free rag. Be careful not to buff too much because you don't want to remove the finish. You want to buff just enough to give it a small shine.
Want to see more furniture flipping inspiration? Come check out my super talented blogger friends and their furniture flips below.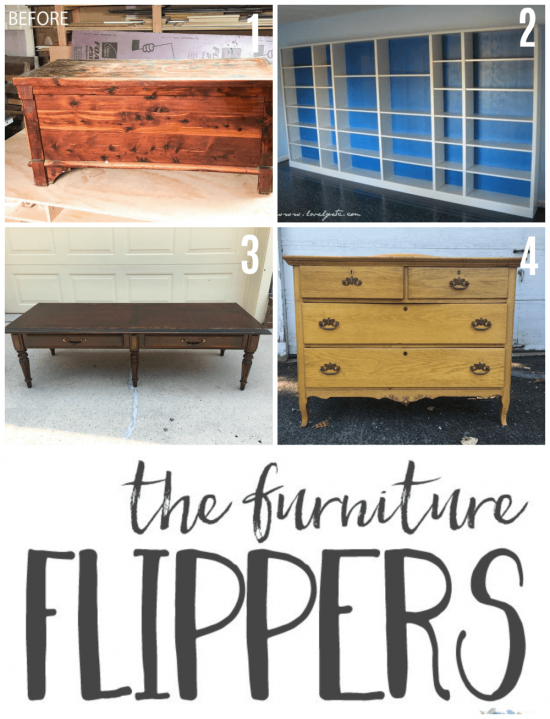 Thanks for following along guys!
Lindsey**