I intended on throwing this old filing cabinet away. I told myself, "how can I keep something that I don't have room to store anymore." Since we moved and downsized, we don't have the closet space to hide it. That's when I decided to give it an easy filing cabinet makeover.
My plan was to ditch the old filing cabinet and purchase a few nice looking wood cabinets that wouldn't stick out like a sore thumb.
Then I came to my senses.
Why would I get rid of the old metal filing cabinet when I could make it over with almost no money and little time?
Do you have an old metal filing cabinets? Don't get rid of it! Let me show you how to repurpose it.
Stick with me; I've got a DIY fail I also want to show you. Not all of my projects are cupcakes and rainbows. 🙂
Disclosure: this post contains affiliate links. This means that if you purchase from one of these links I will receive a small commission, but you won't pay anymore for the product. Thank you for supporting my blog!
Supplies needed to update a metal filing cabinet.
Filing cabinet
4 wooden furniture feet. I could not find a link to the ones I purchased, but HERE you can see something similar.
Drill
Drawer pulls of your choice
Hot glue gun
Let me show you how to give that old filing cabinet a major makeover!
Clean the filing cabinet. Make sure you don't have any debris left on the metal. A good way to clean metal is with vinegar.
Remove the old hardware off of the front of the drawers.
Open your frame and add the black contact paper to the front. Note; I removed the glass and added the contact paper to the cardboard backing.
Use a hot glue gun to adhere the photo frame to the front of the filing cabinet drawers.
Drill the drawer pulls into the front of the "frame." The hardware is what secures the photo frames to the front of the filing cabinet drawers (you can't count on the hot glue holding forever).
Turn the filing cabinet over and drill four holes for the legs.
Use the epoxy glue to add the legs to the base of the filing cabinet.
Paint the rest of the filing cabinet with the Chalkboard paint. I decided to use chalkboard paint because it adheres well to metal and it gives it a smooth matte black look.
Seal the Chalkboard paint with a good sealer.
Below are a few pictures of the process;
This is where my DIY fail comes in. After I did some research, I decided that the best and easiest way to paint the filing cabinet black was with THIS spray paint. The can said it was specifically designed for metal AND it was paintable (in case I ever decided to change the look). Well let me tell you, not everything is as it says. Here is what the top looked like after I sprayed one application.
Yuck! It wouldn't adhere to the metal at all and immediately bubbled after I applied it. This just goes to show that you always need to "test" an area before you go wild with painting (I'm telling myself this:))
Now what? I decided to apply Krylon's Chalkboard paint. I wanted a smooth matte black finish, and since my first option didn't work, I thought the chalkboard paint would be a good alternative. I knew from a previous experience that Chalkboard paint DOES adhere well to metal, so that's what I decided on. Good news, it worked!
Below is a shot after the first coat.
I added a second coat of chalkboard paint and then a sealer and then I was done! Ready to see the reveal?
What a transformation! I'm so glad I decided to give it a makeover rather than pitching it!
Easy FILING CABINET MAKEOVER
Ready to see some more furniture flipping inspiration? Check out my very talented blogger friends below!
<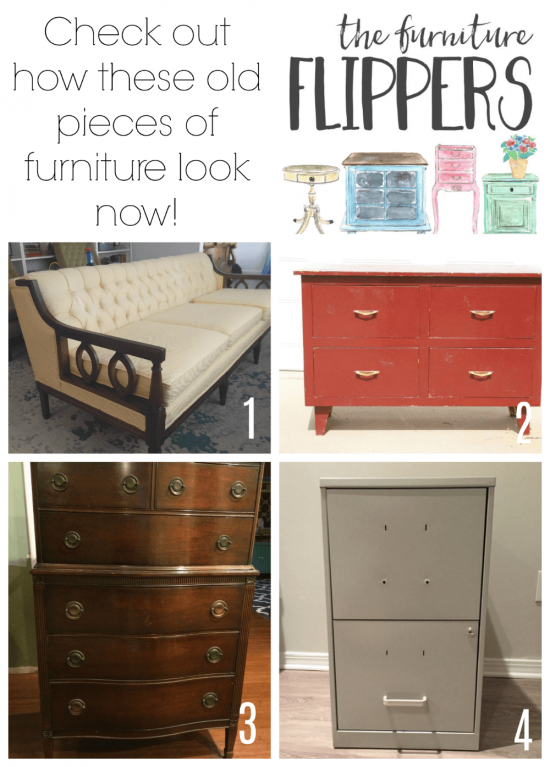 As always, thank you for following along. Let me know what you think about this makeover!
Lindsey**