This is the story of how I gave an old boring dresser a makeover into a french farmhouse style dresser with an image transfer.
This little dresser has been sitting in my garage even before we moved. Before it sat in my garage, it sat in my mother's garage. Do you have a piece of furniture, or in this case a dresser, that you keep moving around and storing thinking "one day I'll get to it?" Well, friends, today is that day. I decided to finally get off my hump and do something about this piece of furniture that was taking up too much space in our garage. Come along and let me share my french farmhouse dresser makeover with an image transfer.
This dresser had NO character when I got it from a friend who was giving it away. Normally a french farmhouse style includes curvy furniture with legs. This dresser did not have either of these qualities.
I knew if I wanted to transform the dresser to a french farmhouse style, I needed a lighter color and a fun french style image transfer.
I just happened to have an image transfer from my friends at Iron Orchid Designs that I never used. You can see how I transformed an old piece of scrap wood into a beautiful farmhouse style sign with an image transfer or how I gave this old TV stand an update with paint and another image transfer.
Let me show you how this dresser started.
Disclosure; this post contains affiliate links. As an Amazon Associate I earn from qualifying purchases. This does not affect the price you pay. This disclosure statement refers to the rest of the Amazon links in this post. See more on my disclosure page.
The dark green color isn't terrible, but I knew that if I wanted to add the image transfer onto this dresser I needed a lighter color so you could see it.
So I removed the hardware and began to paint the drawers first. Since I was going from a dark color to a white color, I knew I needed to add primer to the first two coats. For this I used my go to primer.
I love this primer. It does a great job of covering a dark color and sticks to practically anything. Here's how it looks with a second coat of primer on the dresser drawers.
Now it was time for paint. I chose to use Kilz Chalk Style paint in White.
After I painted two coats of the white paint, I decided to use an image transfer from Iron Orchid Designs.
Let me share a quick YouTube video I recently posted on the image transfer process.
Here are the dresser drawers transformed with a french farmhouse style!
Now it's time to tackle the shell of the dresser. Below is the before picture.
I wanted to accent the white drawers with a dark blueish navy color. Since I had a very similar color of paint already, I decided I would save some money and time and use it.
I've never used this type of paint for furniture before, but it goes on really smooth and dries evenly. It was a custom color mix, so I don't have a name of the color (sorry guys).
My new french farmhouse dresser
I love the french farmhouse flair! I ended up using this piece in my daughters room for her vintage chic bedroom makeover.
Now that you've seen my dresser makeover, it's time to share a few more talented friends and their furniture makeovers.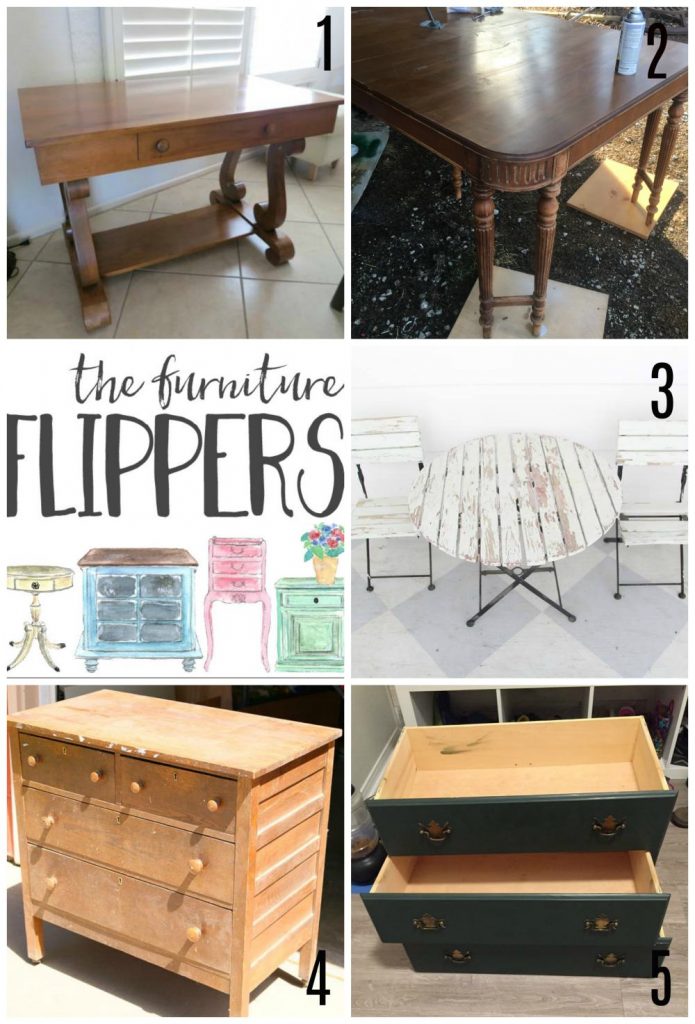 Wet Distress Painted Furniture Technique by Thirty Eighth Street
How to Make a Dining Table into Desks by Refresh Living
How to Paint Outdoor Furniture by Lovely Etc.
Antique Dresser Makeover by A Fresh Squeezed Life
French Farmhouse Dresser Makeover with an Image Transfer by Repurpose and Upcycle
Thanks for stopping by friends.
Lindsey**